Only if you're one of these millions of brainwashed zombies. I have been bombarded with all these sound bites about these prez candidates. As far as I'm concerned, both these bozos don't EVEN come close to know what they're doing.
Let's look at Barock Yourmama: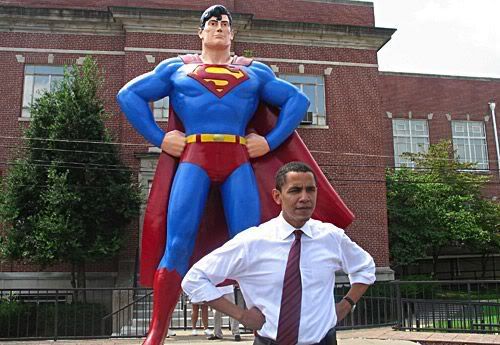 No, buddy, you're not a superhero...
He's a rookie senator. He hung out with some racist bapist ministers back in the day. The big question is: Does he know what the f*ck he's doing? Come on now. He talks a good game, but will he be able to get the job done?
I don't think so. He's probably gonna be dealing with a congress who is gonna b*tch slap him around like some pimp.
So good luck, Yourmama...
His opponent: John Mclame: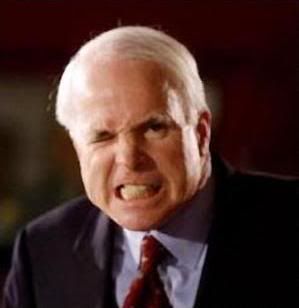 Yea, buddy, I know you have to take a dump...
Boy is in his 70's. He's Bushy's butt buddy basically spouting how great Bushy's policies were. And now since he's running for prez, he basically flipped-flopped on his views to make him look LESS like Bush.
Yea...like that's gonna work...you're just gonna end up finishing up what Bushy started. Stop trying to bullsh*t us...
Who am I gonna vote for?
I'm not even registered.
When they actually have people who are actually for the people and not some sort of corporate shrill, let me know...
Even though, I kinda like Clinton, even though he kinda blew it, or rather, that chubby chick Monica blew it. LOL!
Oh, btw, how do you like the pics? I'm kinda proud of myself. I used photobucket instead of Blogger's photo option. I found it easier to use HTML code than uploading. :)
One last note, I didn't go on my driving lesson this week. My 'buddy/teacher' had some issues with the wiring/electrical work in his van. (Nope, nothing to do with me, if THAT'S what you're thinking...wise ass...) But I will be probably taking a lesson next week. So wish me luck on that one...lol...
Well, thanks for reading...
Later!